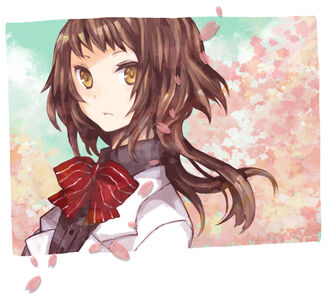 Name: Sakura Vol Kamiro Okei
Nicknames: Blossom
Relatives: Okei bloodline, Her Brother (Dead) Father (Dead) Mother (Dead) Sister: Okari Kami (Alive) other relatives
Affliations: Mithril Army: Captain, Okei family tree
Ethnicity: Japanese/French
Personality
Edit
Sakura tries to be as nice as she can, even to those who don't deserve it. She comes from a Royal Bloodline and tries her best to live up to the standards that she has set. She cares for her sister, Okari and is overprotective of her, although Okari resents her for always being busy.
Abilities
Edit
Cherry Blossoms: Her power which was evolutioned from her mother, Has the power to create cherry blossoms and heal and slice with them.
Master Swordsmanship
Great Gunmanship
Medical Expertise
Quick Reflexes
Ad blocker interference detected!
Wikia is a free-to-use site that makes money from advertising. We have a modified experience for viewers using ad blockers

Wikia is not accessible if you've made further modifications. Remove the custom ad blocker rule(s) and the page will load as expected.